What our clients have said about Spitche
Laurent Dubois,
Ecommerce Lead of L'Oréal, Biotherm Canada
"Our ambition with Spitche was to grow our database, improve our audience targeting and improve our ranking on the L'Oreal Digital Brand Pulse Index. After 6 months, 70% of our fan base were new contacts, our social ads targeting performed above our average performance and our Index also grew. Mission accomplished!"

Pamela Abad,
Fmr Head of Global Alumni
"Spitche is a powerful and intuitive platform, easy to manage and to use. It has a significant impact on our brand and, in addition, Spitche's team is always making sure that everything is working well and that our program runs successfully. We are confident this tool is an essential part of our ambassador strategy's success."
Florent Guieu
CEO of Decathlon Ukraine
"Spitche is a new way to engage consumers with a unique brand experience. Thanks to the gamification system, we implemented an innovative strategy to interact with our loyal customers."
Yoann Robert,
Fmr Head of Social Media, TF1 Groupe
"Using Spitche, we managed to reach over 2.7M users in our target audience on Facebook organically, turning over 30k followers to identified and engaged ambassadors."
Identify Ambassadors​
Full identification of the brand's ambassadors with personal data and social media profiles. GDPR compliant
Gamify Engagement​
Gamified play-to-earn linked to social media actions and increase your engagement & reach. Motivate them with exclusive rewards that can bring additional loyalty, awareness and sales
Collect Data​
Analyze consumers engagement data, use their content and optimise your marketing strategy. Increase conversion rate, optimise ads targeting & Improve content quality thanks to the data collected
Create Ambassador Campaigns
Create powerful organic ambassador campaigns and reduce your ads budget overdependence. Ask your ambassadors to promote a product launch or to create a  new unique content about your products
Empowering Consumer Experience
Unlock the power of digital ownership and leverage consumer engagement with NFT campaigns. Sell exclusive products through NFT, get additional revenue from secondary market & offer a unique brand experience to your ambassadors
Customize Marketing Automation
Use the social media engagement data to personalize your targeted communications. Send the right message on the right channel to the right person at the right moment
Do you know that consumer engagement data could drive your marketing strategy?
Spitche allows brands to gather data from consumer engagement to optimize their marketing strategy as it provides valuable insights about consumer behavior, preferences, needs and journey
Learn More
The golden age of traditional advertising is ended
People influence people about the products & services they love. Brands need to understand their top consumers and collaborate with them. The future of marketing is C2C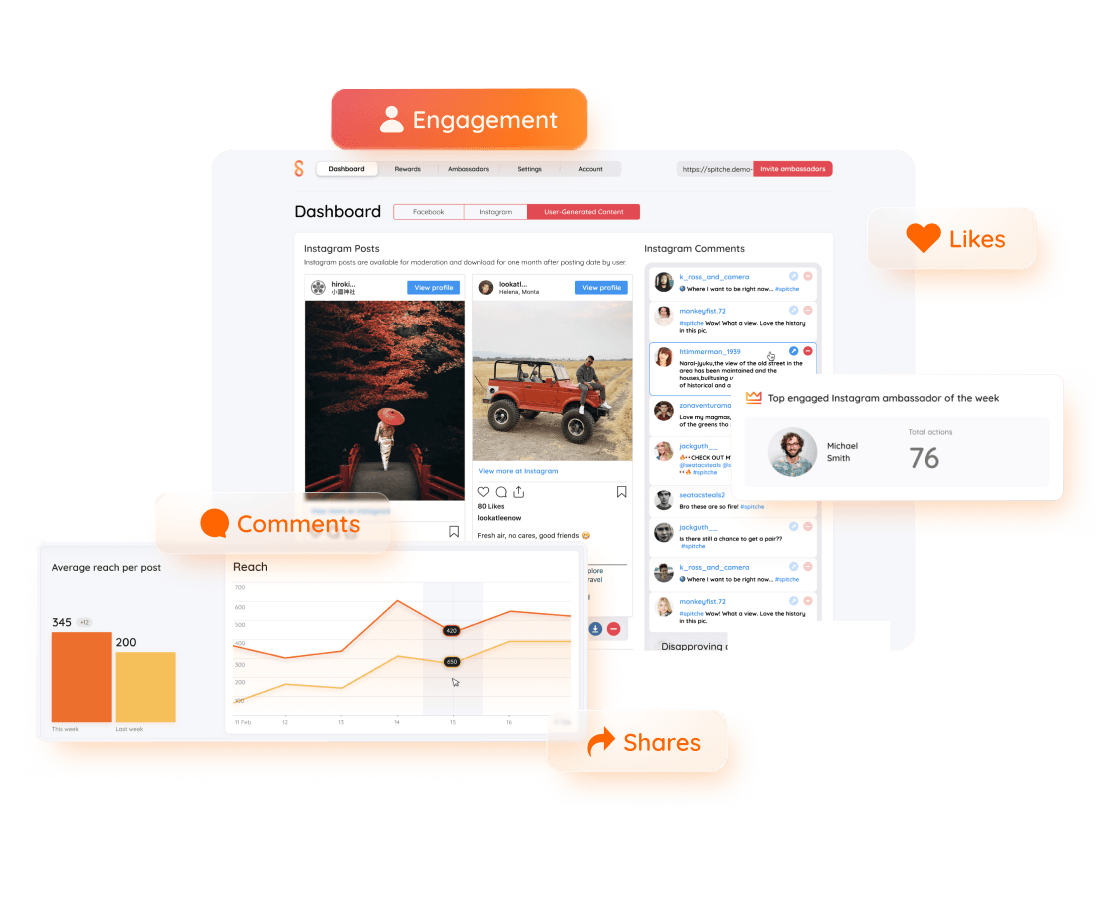 Simple way to create a social media ambassador program in a few minutes
Spitche provides an end-to-end solution allowing brands to launch a customized ambassadors program through social media gamification. Everything is easy, automated and user-friendly in order for you to focus on ambassador marketing
Learn More
Ready for a more creative way to hack organic growth?
Fill your CRM with engaged, opted-in consumers and get organic reach so high you think you'd paid for it.
Book a demo