There are over 3.8 billion people with social media accounts worldwide. That's almost half of the world's population! Your social media channels present an opportunity to not only reach your target audience through content (aka owned media), but more importantly, to gain earned media.
While paid media efforts may gain you short-term spikes in traffic, it's earned media that has the most significant impact on your brand awareness and will drive traffic long-term.
What is earned media?
Earned media, also called free media, is any unpaid piece of content that is published about your brand by a third party. This "word of mouth" style of content marketing is done voluntarily by your audience, influencers, bloggers, etc. and helps drive traffic to your site. 
Not only does earned media help you expand your reach to your target audience, but it also gives a hefty boost to your SEO rankings on Google. 25-40% of traffic comes from earned media, so there is potential to almost double your reach by incorporating it into your marketing strategy.
Types of earned media
Here are some of the different types of media you can use as part of your earned media strategy.
a.
Social media followers share your post
While social media accounts are technically owned media, when your followers share your content, it becomes earned media. Your social media accounts allow you to connect with potential customers by giving you a platform to create informative, engaging, and, most of all, shareable content. 
In this example below, a Facebook user shares an infographic that has been posted by a coaching brand. Although the infographic doesn't necessarily mention the service that the coach is offering, the image resonates with their followers, and is very shareable. Once shared, the infographic begins getting its own engagement from the users followers. 
When you're building your content marketing strategy, focus on posting videos, blog posts, and infographics that provide valuable information that your followers will want to share with their networks. Whether it's retweets on Twitter, social shares on Facebook, or reposts on LinkedIn, each time a piece of content is shared, you're increasing your reach.
b.
A free review by a blogger or influencer
92% of consumers trust word of mouth recommendations from third-party sources over forms of advertising. Having a blogger or influencer write product reviews, testimonials, or simply mention you on their social media, will establish your brand as reputable and trustworthy, driving traffic to your site.
Influencer marketing is part of many brands' content marketing strategies, but is often a form of paid media. The global influencer marketing budget is expected to hit $10 billion this year. You can earn free media mentions by targeting the right influencers who align with your product, believe in your brand, and would benefit from a collaboration.
c.
Organic search results ranking
SEO is another form of earned media, since you aren't spending money on PPC ads, and instead, providing content that ranks in search engine results. You're earning organic traffic by implementing SEO, and therefore it's part of your earned media strategy, even though it's obtained via owned media.
You can boost your organic search results ranking with keyword optimization, publishing quality content, updating your content regularly, and encouraging community engagement. 
How to get earned media
So, now that you know the types of free media outlets that are available, you need to start earning it. By implementing these strategies, you can start boosting your media efforts with earned media.
a.
Have a strong social media content strategy
Successfully sharing content is a science, and as with all forms of science, has its complexities. If you're publishing content with no long-term media strategy, then your posts will fall flat. The medium of content you post, the time of day you share it, and everything in between has an impact on how much earned media you can milk out of your content.
Keep these things in mind when building a social media content strategy:
Define your goals: The goal here is getting earned media via lots of social shares

Know your target audience: Who are you targeting? Be specific about everything from demographics to audience interests and create a customer avatar.

Keep an eye on the competition: Do your research and identify competitors who are achieving success with their earned media strategy. What types of content are their audience sharing the most?

Use

social monitoring tools

: Analyzing your social media content's performance is one of the best ways to create a strong social media content strategy.
Using social monitoring tools will allow you to track which types of content generate the most engagement and use that data to improve your new content. Below, Facebook Insights show how much engagement the most recent posts have gotten on a brands feed.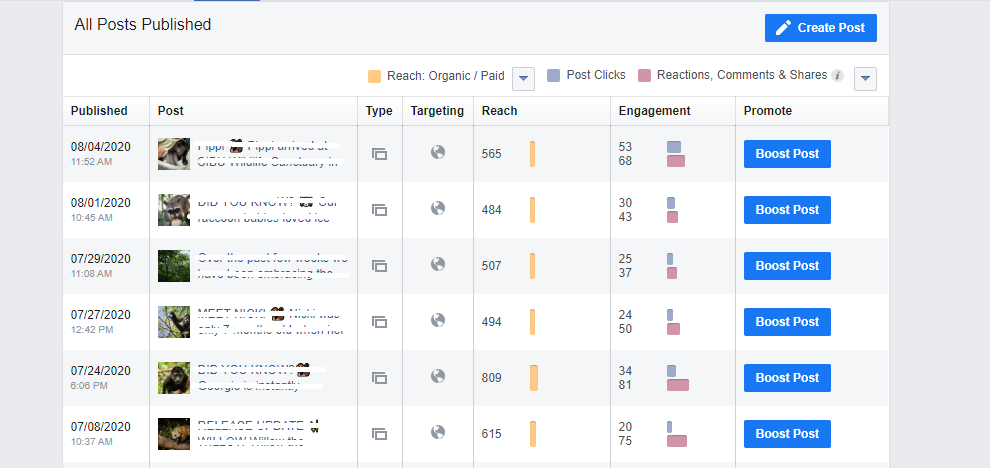 b.
Use tools like Spitche to increase your organic reach and earned media
Take advantage of the fantastic tools and software that you have at your disposal to help you get more earned media. Turn your followers into brand ambassadors by using Spitche to reward your audience for engagement and earned media mentions. 
You may be creating awesome content, but it never hurts to give your followers extra motivation to share your posts. The more they engage, the more you'll increase your organic reach.
Spitche is an all-in-one platform that acts as a tool for lead generation, community engagement, and customer loyalty. You can create custom incentives for your followers, with reward tiers based on their engagement levels.
c.
Network with industry influencers
Influencers can increase your brand awareness and sway the purchasing decisions of their followers. Studies show that 49% of people rely on influencers for product recommendations. They contribute to what's known as the "bandwagon effect." Essentially, when influencers post content featuring a product and mention how great it is, their followers are instantly interested in learning about it.
An important part of using influencers as part of your earned media strategy is to connect with relevant authorities in your niche or industry. Begin reaching out to those you think would legitimately like your brand and want to share it. 
Ensure that when you pitch to a new influencer, you have done your research regarding the type of content they post, and what resonates with their followers. That way, you'll have the best chance of a free collaboration.
Working with influencers is a two-way street. You should also be prepared to actively engage with their content and share it on your social media channels when appropriate.
d.
Keep testing your earned media strategy
Building an effective earned media strategy is a never-ending process. Social media channels and algorithms are continually evolving, as is the type of content that resonates with your audience. Continuous testing will allow you to adapt your strategy based on the performance of your posts, making changes and switching directions as needed.
Getting earned media is the best way to foster the long-term growth of your brand. It's the most trustworthy and reputable media type and helps you attract new customers who will stick around for the long run.