By Lucas Helaouet, Head of Marketing at Spitche
When I'm in the market for a new product, it's important to me that the brands I buy from are in line with my morals, and inspire their communities to actively do good. 
When I first came across TOMS over 10 years ago their "One for One" business model was something I could definitely get behind. They are constantly giving back to global communities who are in need, and inspiring their online communities to do the same.
Ever since, I've been wearing their shoes until I've worn right through them, and then re-purchasing a replacement. 
That's also why I love being the Head of Marketing for Spitche. Our values have always been empowerment, impact, growth, loyalty and recognition. Before I officially joined the team, I helped organize their in-person event, MeltinLab in Barcelona.
These events turned into real, genuine online community. People shared with one another. And I mean real experiences, real best practices, things they've done before that can really help people.
The team at Spitche did everything to make sure people were getting value, whether they were a customer or not. That's how we do things, and that's what we think the future is. That's why our product lets you empower your community.
Investing in your online community
Conversions and sales are B2C retailers' end goals, but there's more to it than paid ads and endless one-way output of content. An investment in your online communities will allow you to build a loyal customer base who's invested in your brand and what you have to offer. 
Here at Spitche, we know that brands are only as good as the loyal communities that support them. When your brand has an engaged, passionate community behind it, you capture the interest of your target audience and see your organic reach skyrocket. 
Your brand's online community is a way to bring together like-minded individuals who share the same values and passions that you do. In a socially disconnected world, people crave connection and being part of something bigger. Giving your audience a place where they can have dynamic and engaging discussion and take in content that resonates with them provides real value that they remember.
Audience vs community
Audience and community, while interconnected, have some key differences. 
Anyone that follows your brand, visits your website and views your content is your audience. Getting to know your audience, and providing content that inspires them to engage will help you create your community.
Where your audience may simply consume your content, your community will interact with it. Open discussions, commenting on and sharing your content and creating user-generated content are what makes a community. 
The new age of online purchasing
The way that consumers make purchases has changed fundamentally in the last few years. 
Buyers do not have the confidence to buy products or invest in services based on online product descriptions or ads alone. People are more skeptical of brands than ever, and for good reason. As the market becomes more saturated and competitive, it's harder for consumers to identify if brands are being genuine or not. 
Companies like Naked Juice marketed their product as being "all natural" which was then challenged in court and found to be untrue. Listerine promoted their mouthwash as being a replacement for floss, which was also found to be untrue. With many brands being deceptive, it's no surprise that consumers are skeptical. 
Where do consumers turn? How do they know who to trust? Well, they research before buying. Online communities play a huge role in that research.
Businesses don't have the capacity to provide the amount of content that consumers need to feel confident about making a purchase. But your community does. 
Reviews, forums, comments, videos, and other user-generated content are what give potential customers the information they need to go from hesitancy to certainty.
Over 40% of people use social media to conduct brand research, with the Gen Z population doing more research on socials than any other platform. 85% of Gen Z users find out about brands via social media. If potential customers hit your social media feeds and can't find anything, how in the world can they take you seriously? Alternatively, if all they see are your posts among tumbleweeds and cricket sounds, you kinda look like the guy at the party who just keeps talking, without an ounce of self-awareness.
What if they see your community engaged, discussing, asking questions and enjoying what you offer?
That's what we want.
Build customer confidence
So, what exactly are customers looking for to feel confident in your brand? They're looking for reassurance that other people, just like them, are finding value in your product. 
They want access to user-generated content, reviews (both written and video), how-to videos, questions answered by real people, and relatable content that prompts tons of engagement.
While you can share posts that you think your audience will like, you also have to encourage interactions beyond just a thumbs up or a share. Encourage the conversation by getting in there yourself and interacting with your community.

Seriously.

Slide into DMs and start talking to your people.

Close the gap between brand and buyer.
Consumers who get the reassurance they seek from a brand's engaged community will feel more confident about purchasing. Whether that's asking a question and getting a reply from a community member or seeing others engaging with social media posts, it all has an impact. 
Many of the people in your social communities may not even have purchased from your brand, but they're part of the conversation, and that's what counts.
Let's take a look at the world's biggest online retailer, Amazon.
When you look on any product page, you have not only to the product description and price, but also tons of consumer reviews and a Q&A section.
Anyone can ask questions about a product, and anyone can provide an answer. Sometimes the brands' customer service team will pop on to answer, but more often than not, it's other consumers who answer the questions. 
You'll also get pictures of what the product looks like in real life, not just in the brand's curated image. It's especially useful for clothing since people want to see how the product fits on everyday people, not only models.
Urban outfitters have echoed this by allowing their customers to leave reviews directly on product pages and post images of them wearing the garments. They also allow them to include what size they purchased in relation to their height, age, and typical size worn. This information provides real-life examples for potential customers, so they know exactly what to expect in terms of quality and fit, giving them the confidence to purchase.
Since many brands are beginning to implement similar practices, these features will soon no longer be a helpful bonus. They will be expected. If a potential customer can't access your community's feedback easily, they will likely avoid making a purchase altogether.
Product development
Encouraging community engagement also creates additional data for brands to draw on when developing new products and working on marketing campaigns. Even if many of these community members aren't purchasing products, they provide you with information about what they like, what they don't like, and what resonates with them. 
You can use this data to identify potential market opportunities and make changes to your product or service to address their pain points. In this example you can see how consumers are making suggestions on Head & Shoulders' Facebooks posts, which shows the brand what their audience is looking for, and which direction to go with development. 
66% of companies will turn to their community when developing new products. You can look at your social communities like online focus groups, who can provide you with actionable data for new products or services or optimizing your current stock. 
Insights from the non-customers in your community are especially useful since you can find out what they need to turn them into a paying customer. 86% of Fortune 500 companies say that their online communities provide deep insight into customer needs, with 66% stating that those insights positively impacted product development. 
Online communities are just a gold mine. Yes, it's good for product, good for marketing insights, good for sales, but ultimately it's good for building brands that have meaning.
User-generated content
Why create all your brand content yourself when there are thousands of people that can create even better content for you? Better in the sense that it is more effective at achieving your ultimate goal: conversions. 9 out of 10 online consumers trust UGC over your brand's advertising. How do you get UGC? Through your loyal social communities.
An engaged social community means more content shares and more organic reach to your target audience. It can be anything from tagging your brand in pictures on Instagram, sharing your social media posts to their feeds, or writing product reviews. You can use UGC to answer your customers' questions in a personal and genuine way.
LUSH has an incredibly engaged community of both non-customers and paying customers due to their strategic use of UGC. They built a community of people who not only follow them for their products but also for their commitment to ethical campaigns and bettering the planet. 
They stay consistently engaged with their community through a high volume of content, which they could never produce on their own. Instead, they encourage and share UGC that provides the proof that consumers need when making purchase decisions. For example, customers want to know what their bath bombs look like in water, and LUSH shares photos from their community using the bath bombs.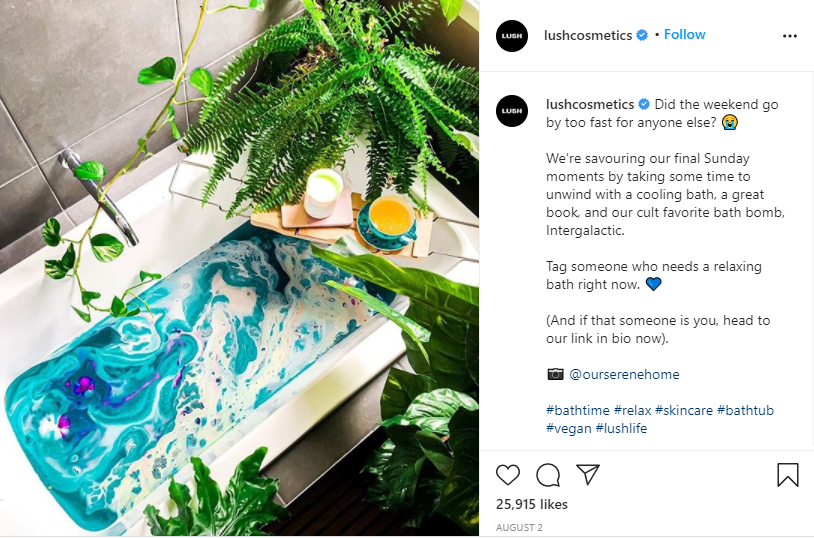 Encourage people to interact on your social media or website by providing incentives for them to do so. It could include rewarding them with exclusive discounts, free products, or invites to a special event. The more consumers engage, the more information is available to potential customers who are exploring your brand. 
We at Spitche are passionate about strengthening brand communities and inspiring loyalty by rewarding engagement through our user-friendly platform. You can build a loyalty program, track social media engagement and user-generated content, and give rewards from one interface.
Having a user-generated content strategy can hugely pay off, with companies like Buffer boosting their Instagram following 400% using UGC!
Building an online community
Building an online community doesn't happen overnight. It's a big time investment. Think of it like getting a gym membership. Having the membership doesn't get you abs. Not even going to the gym will do it. You have to do the work regularly.
Simply setting up your social media accounts and posting doesn't mean that hundreds of people will start flocking to your page and engaging with your content. It takes a lot of time and work, especially in the early stages, to get people interested in your brand and what you have to say.
If you invest the time now, your community will be there to help you out later (they will essentially become your customer service team, marketing and sales team, and brand advocates). Your community needs to be a place, not only to showcase your products, but a place where your target audience can hang out, whether they're making purchases or not.
Lululemon totally nailed it when it comes to online social community building.
They're not just a yoga wear brand – it's a worldwide community of yogis. 
They have online group training programs, virtual group yoga classes, and even hosted a virtual marathon this year, allowing their community to connect with each other. They have thousands of community ambassadors, who host in-person classes and events within their local community (wearing Lululemon gear, of course), and they even have an online book club.
They use Instagram Lives to host interviews and Q&As with industry leaders, allowing the community to jump on in real-time and ask their own questions. Nothing here is specifically about conversions or selling yoga gear, but instead about creating engagement and relationships.
Succeeding with your online communities
Your online communities are a place for inclusion, not only for paying customers. They should be a place where like-minded individuals can connect over a similar interest: you! The key to your communities' success is continued interaction with your brand via social channels. Here are the three steps to building online communities that will succeed.
1. Create relevant content
Firstly, you need to start with your content. Simply posting at random is not an effective way to gain engagement. You need a solid content strategy packed with valuable content that resonates with your target audience. 
Have a look at what your competitors or other brands in your industry are posting and what's creating the most buzz. Check out the 'pages to watch' feature in your Facebook business page insights. It'll show you how your page is performing vs. similar pages. 
You can click on any of those pages to see their top posts for the week, which you can use to identify trends and what gets your audience talking. Once you start gaining momentum on your own feeds, you'll have access to analytics, which can provide insight into what types of content are working best on your feeds.
2. Incentivize your community to engage
Next, you want to incentivize your community to engage. This is where it gets juicy. Why should they share your content, refer their friends, or create user-generated content? 
What's in it for them? You might have some die-hard fans who are so pumped about your brand they just have to share it. You'd be lucky. For others, it doesn't hurt to give them a bit of a nudge. Loyalty and reward programs that offer perks for engagement are the best way to grow your community. 
Using platforms like Spitche, you can reward your community for different forms of engagement, such as sharing your content, leaving reviews, or creating their own content. The perks are up to you, but you can offer discounts on future purchases, first dibs on new products, or invites to exclusive in-person and online events.
3. Hire a community manager to manage your feeds
It isn't a bad idea to get a community manager on board whose sole focus is to engage with your brand's community members. It's a worthwhile investment, since building your online social community should be one of the top priorities of your marketing strategy. 
The community you create will serve as the foundation for your entire brand, extending your reach and establishing you as a reputable and trustworthy company. You can dump your whole marketing budget into ad spend, and you might make some sales, but if there's no one talking about your brand, then your success will be short-lived.
Building an online community in a nutshell
When you use your online social communities to close the gap between your brand and your customers, you begin to build a trusted reputation and a loyal group of followers. Doing so will add value for your customers, give you access to social monitoring and data, and grow your reach organically. 
Your community will become a valuable resource for all your customers to find answers they need quickly, meet new people that share their interests, and form bonds with your brand that pay off.